Lions,Tigers, Bears, Etc.
Deprecated
: preg_replace(): The /e modifier is deprecated, use preg_replace_callback instead in
/home/brinber/public_html/wp-includes/functions-formatting.php
on line
76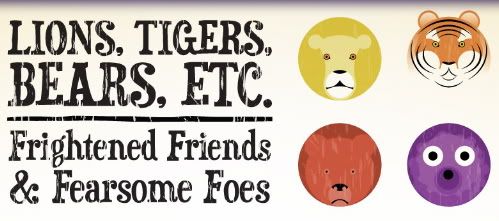 A sunny fall morning in 2001 reintroduced us, as a country, to our old friend, Fear. Since then, we have been constantly reminded that if you're not with us then you're against us, that secrets and walls and wiretaps fight the terrorists, and that death may be waiting around every corner.
This July, over 30 artists will face their fears, from movie monsters to bedroom boogeymen and beyond, in Wootini's Lions, Tigers, Bears, Etc., a curatorial debut for artist David Huyck. Artists such as Colin Christian, Chris Ryniak, and The Little Friends of Printmaking will join Wootini friends Andrew Bell, Bwana Spoons, David K. Rose, Jermaine Rogers, and others, in this exploration of our various emotional tormentors. Oh, my!
The opening reception will be held July 14th, 2006, from 7pm to midnight, and the works will be on display until September 4th. After the close of the show, all the art will be collected in a catalog to be available nationally.
For more information, see http://lionsandtigers.bunchofmonkeys.com/, or contact Wootini at lionsandtigers@wootini.com or 919-933-6061, or David Huyck at david@bunchofmonkeys.com.
Click the Lions, Tigers, Bears, Etc. Link on the right for more!


"Griz Lee Maze" by Brin Berliner