Curious Creatures
Deprecated
: preg_replace(): The /e modifier is deprecated, use preg_replace_callback instead in
/home/brinber/public_html/wp-includes/functions-formatting.php
on line
76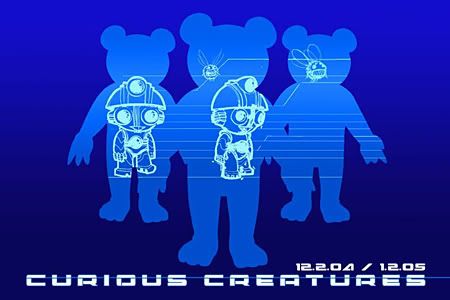 A Toy Art show at Punch Gallery
Punch Gallery celebrated its 2nd anniversary with Curious Creatures, an exhibit showcasing the bridge between concept and execution of today's most interesting art toys. Curated by toy sculptor and designer Brin Berliner, Curious Creatures features an impressive group of artists with an emphaisis on process - from the original art, through the drawing and sculpting stages, and on to the finished product itself.
Scatha G. Allison, Attaboy, Danielle Barnett, Bigfoot, Brian McCarty, Brin Berliner, Steve Berliner, Cir, Circus Punks, Damon Soule, Friends With You, Jeremy Fish, Mars-1, Mikas Mogo, Roy Miles, NoMe, Jermanine Rogers, Romanowski, Gonzo, SEEN, and Super Fun Company.
STRANGEco has a great layout of the show with plenty of pictures and more info.
Click the Curious Creatures Link on the right for event coverage!